Global Well-Being Communications | Year 2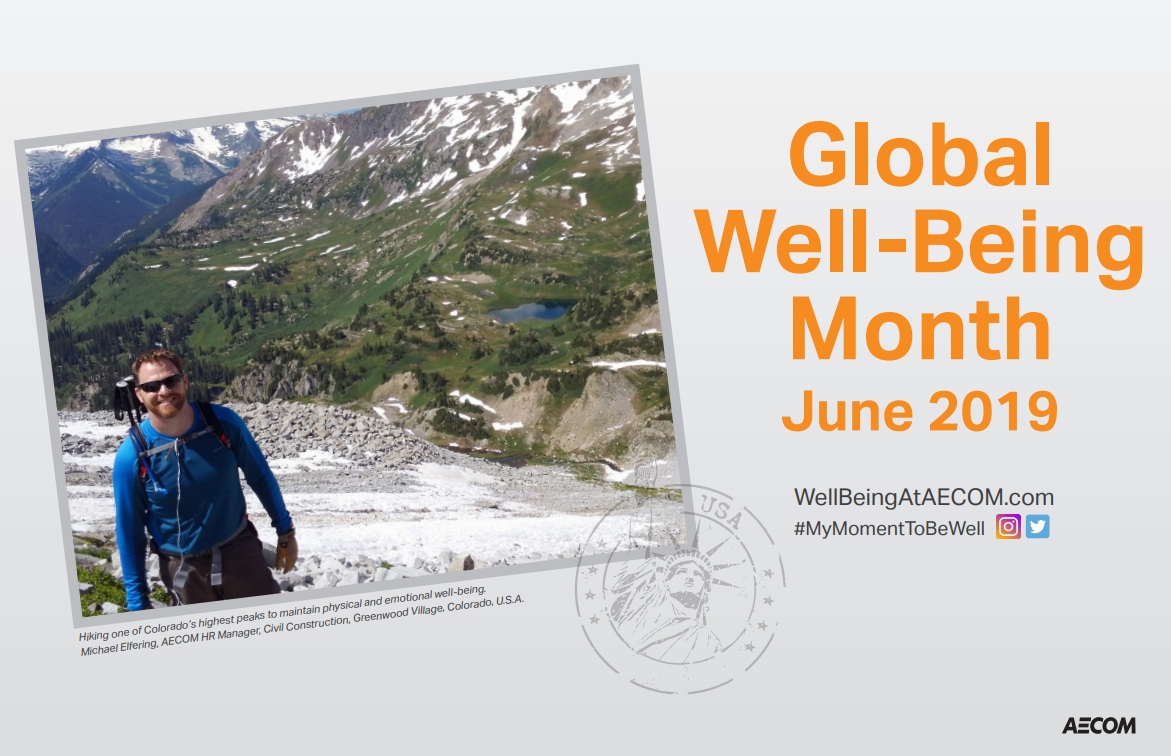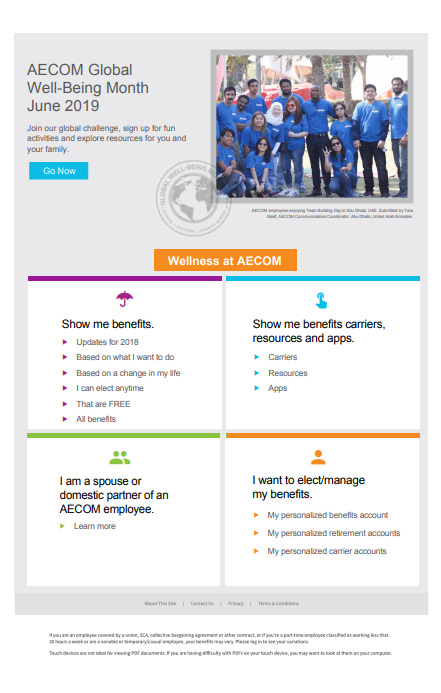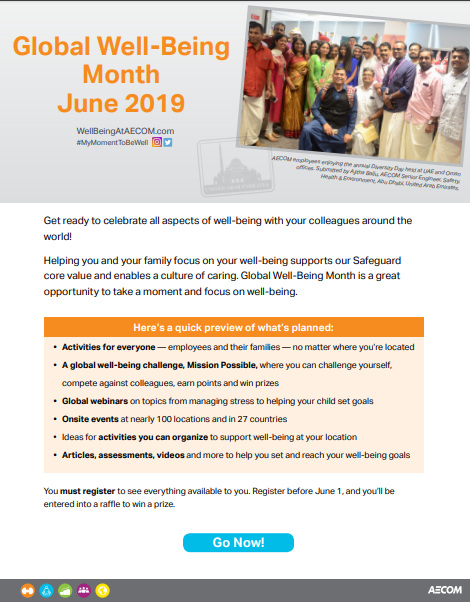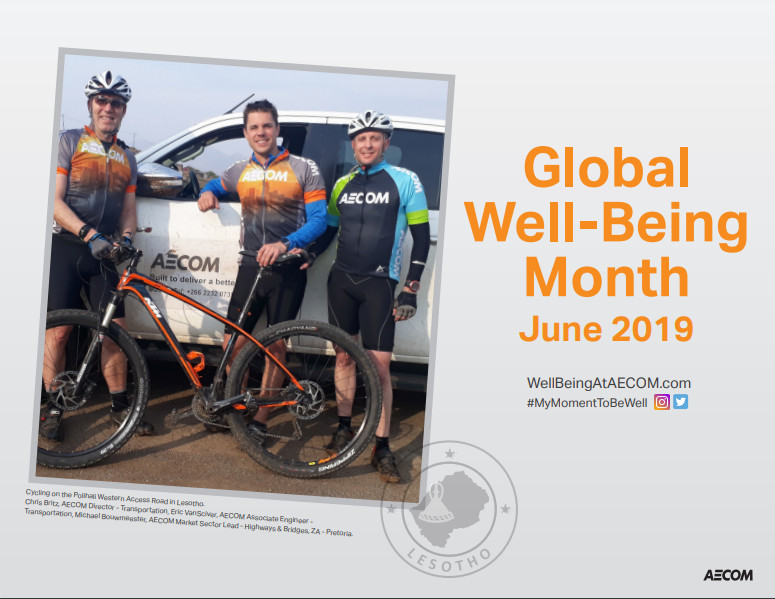 Overview
In June 2018, AECOM engaged its global workforce of nearly 70,000 people by launching a Global Well-Being program during its first-ever Global Well-Being Week. With over 125,000 employee engagement touchpoints (event attendance, learning moments, social media posts, page views, likes, comments, downloads, etc.), Global Well-Being Week was a huge success. To continue the momentum and excitement garnered by Global Well-Being Week, AECOM decided to host a bigger and more impactful event across its global workforce — Global Well-Being Month — in June 2019.
AECOM faced the question of how they could craft a strategic campaign to take the success of the inaugural Global Well-Being Week and transform it into a month-long initiative that engaged and educated employees.
Approach
AECOM knew that to have a successful Global Well-Being Month, they needed the buy-in, ideas and support of global leaders. They partnered with global business leaders, HR and Safety partners, as well as Mercer (AECOM's wellness consultants) and Blue, to develop a five-year global well-being strategy.
Through interviews, surveys and focus groups, they gathered information on leader interest and the readiness of their locations for launching a Global Well-Being program. This strategic plan included a mission statement and objectives, and identified the key pillars of well-being: physical, emotional, financial, social and the planet. The Global Well-Being program design and communications strategy was born from this foundational document. Within the communications strategy, the program objectives, key messaging, media plan and branding approach were developed.
To communicate Global Well-Being Month, we used a comprehensive approach spanning April through June. We communicated to key target audiences:
Global Well-Being Ambassadors – Training presentation, conference calls, email updates and online toolkit and resources
Global Leadership – Preview and update emails and presentations to the Executive Leadership team, HR Leadership and senior leaders; update email from the CHRO; kickoff video from the CHRO and leader video series and testimonials
Global HR/Safety – Regular monthly HR presentations and town hall meetings, including a Global HR Town Hall
Global People Managers – Weekly manager tips; manager-specific resources, presentations and well-being pledges and Manager-of-the-Month recognition
Employees – Pre-launch preview email, posters, flyers and e-signs; launch social media campaign #MyMomentToBeWell; Culture of Well-Being page with leader videos and testimonials; digital well-being wheel; physical well-being wheel (shipped to 11 global locations); well-being activity ideas menu; a four-week "Mission Possible" Challenge, including activities, weekly emails and prizes that encouraged employees to focus on their well-being and a content library with well-being articles, assessments and plans to move beyond education and awareness to creating habits
Results
Strengthened AECOM's culture of well-being by engaging leadership and expanding support to managers and ambassadors

In AECOM's annual survey, employees agreed, "My manager cares about my well-being" (On a 5-point Likert scale, engagement scores went from 3.96 points in 2017 to 4.20 points in 2019)
+67% growth in the global Well-Being Ambassador network (from 160 to 268)
43 global managers recognized for their focus on well-being

Encouraged employees/families to take action

140,000+ total touchpoints, which are a reflection of engagement
Nearly 4,500 employees/spouses registered for the Mission Possible Challenge
Nearly 600 employees accessed the "Create Your Plan" resource
Well-being moments, a brief pause in the day to focus on well-being, are now commonplace

Aligned well-being programs with existing Safety programs

Well-being topics are incorporated into Safety for Life Training and Safety Week events
Global health components are integrated into annual Safety dashboards