AECOM Benefits Aggregator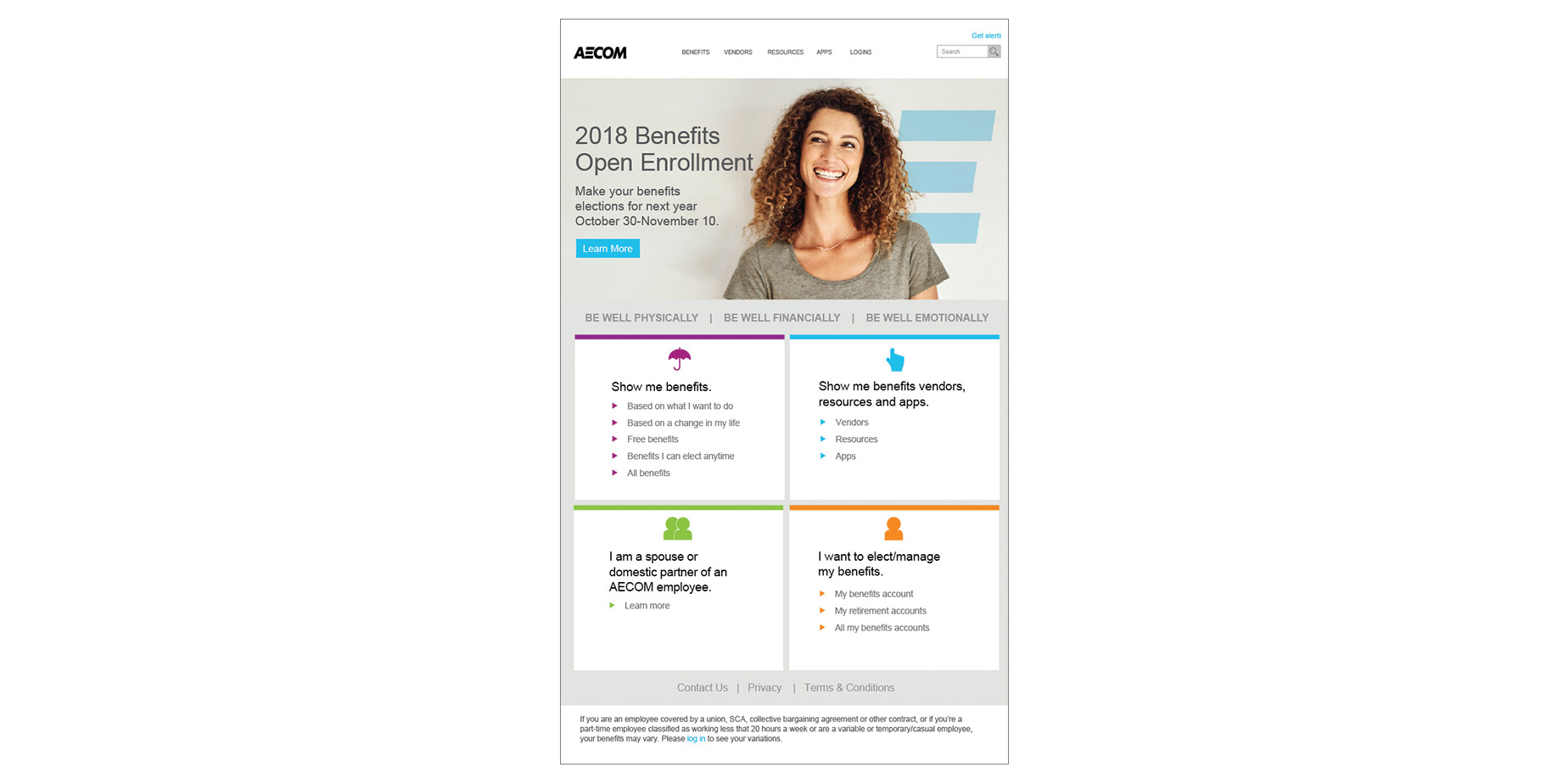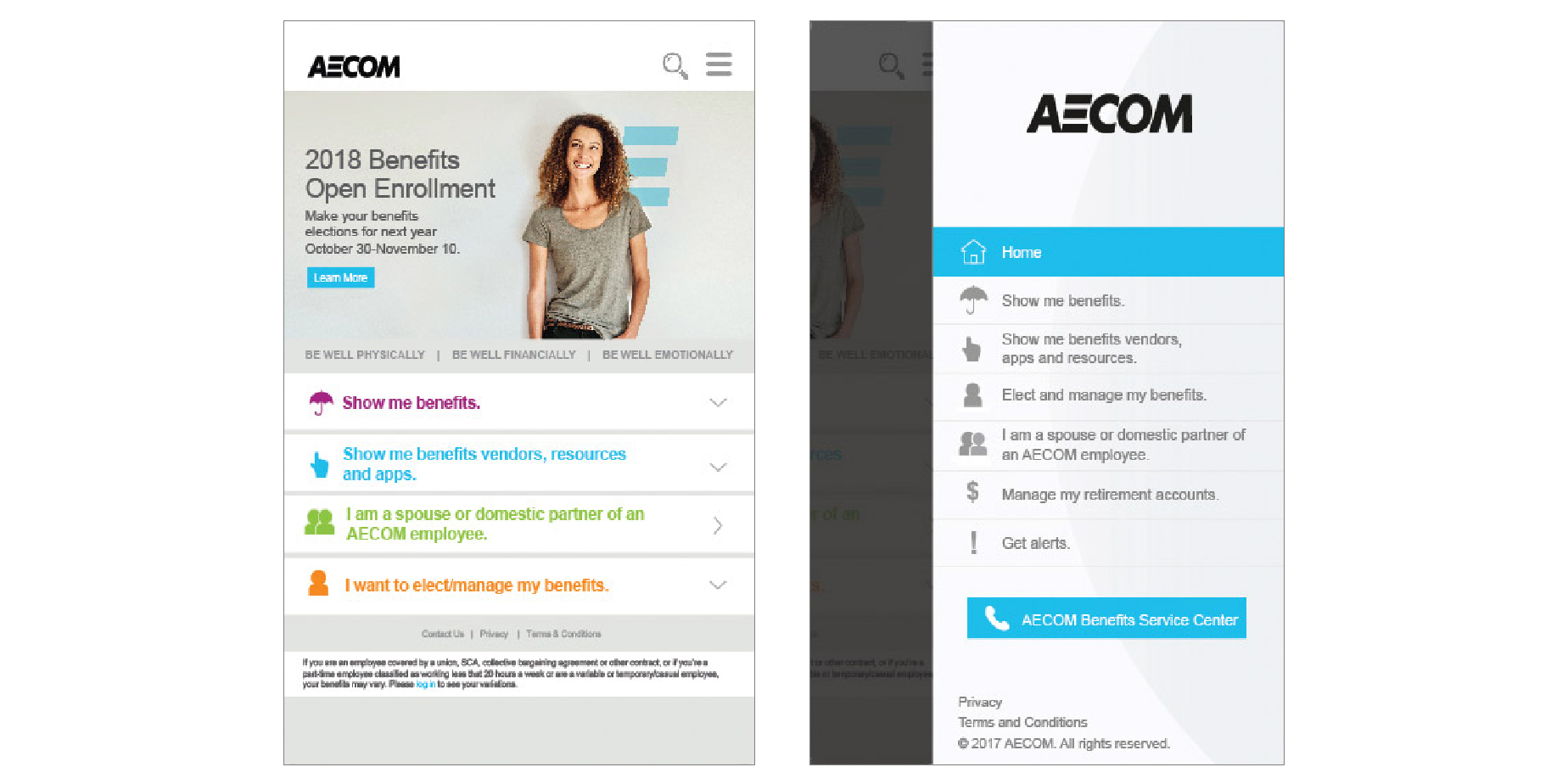 To help AECOM employees and their families more easily access and understand their benefits and how to use all the available resources and programs, Blue Communications developed AECOMbenefits.com. This mobile-optimized website brings all AECOM benefits information together in one place, including descriptions of benefits, access to benefits carriers, personalized benefits accounts, and information for spouses and domestic partners.
Client: AECOM
Industry: Architecture, Building and Construction
Number of Employees: 95,000 Globally
The Challenge: Finding and Understanding Benefits Information
Finding benefits information and making sense of it can keep many of us from taking full advantage of employer-provided benefits plans. Benefits information is often written in complicated language spread across multiple maze-like carrier websites, and many benefits plan sponsors keep even non-sensitive plan details locked down and inaccessible to non-employees. This makes it difficult for spouses and domestic partners, many of whom are highly involved in using these benefits and making benefits and health decisions for the family, to access the most basic and general plan coverage information. AECOMbenefits.com was built to solve these issues.
The Solution: AECOMbenefits.com
AECOMbenefits.com put all benefits information and resources in one place with a simple interface that categorizes information the way an employee thinks. Users can find information "based on what they want to do" or "based on a change in their life" or "that are free." Traditionally, benefits website content has been organized the way an employer's Benefits Department is organized: health care, financial programs, perks, etc. Employees don't think this way, and therefore, they spend unnecessary time looking for information they many times cannot find.
The tagline for AECOMbenefits.com — "Your first stop for all things benefits" — was used in our communications to help AECOM employees and their families understand when they should visit the site. The site, which renders beautifully on mobile devices, allows employees and their families to more easily access and understand their benefits and how to use all the available resources and programs.
The Results: High Site Traffic and Engaged Users
After only a few months we had the following results:
Strong Page Views: 74,000 sessions and more than 200,000 page views from more than 38,000 users, which means roughly 95% of our target audience (AECOM's U.S. employee population) has been to the site.
High User Engagement: More than 60% of site visitors spent time clicking through information and resources to learn more about their benefits and wellness programs, spending an average of more than 3 minutes on the site per session — indicating that employees are engaging with the site and the material provided.
Spouse/Domestic Partner Engagement: A page targeted specifically to spouses/domestic partners is ranked #14 of 120 pages. These statistics show great progress toward engaging employee families and other household benefits decision-makers. In addition, 30% of respondents to a survey about the site had already shared the new site with their spouses or partners.