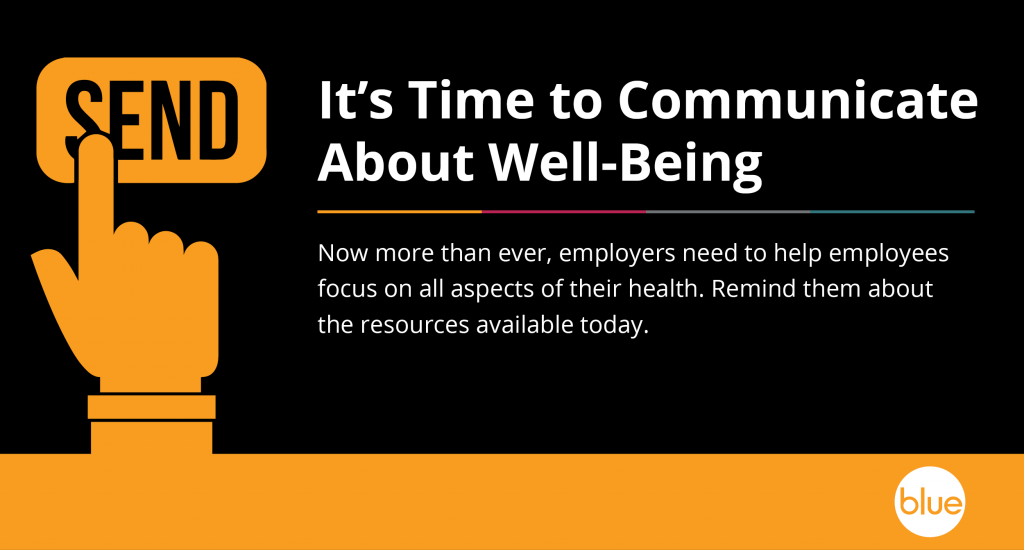 The world has been changing fast during the past few weeks. With coronavirus cases growing across the U.S. and internationally, businesses are adapting to this "new normal" by finding new ways to get things done, comply with changing legislation and work efficiently with more employees working remotely. While they might appreciate the lack of a commute, some employees might experience feelings of isolation, and they are likely feeling anxiety about their health, job and financial security. They just might benefit from a reminder about the Employee Assistance Program (EAP), nurse line, telemedicine and other resources that are available through their medical plan.
In other words, even with all of the upheaval in today's world, it's actually a great time to communicate about well-being. Before we talk about how to do it, let's take a step back to define well-being. Simply put, it's feeling good about one's life. It's about the whole person — not just their physical health. We recommend that well-being programs focus on all aspects of well-being: physical, emotional, financial, social and even the planet. Of course, as we previously suggested, your employees might appreciate resources and information that support their emotional, financial and social well-being, and that help them stay connected, during the next few months.
When it comes to well-being communications, we don't recommend a one-size-fits-all approach. It's important to customize a communications plan that makes sense for your organization and employee population. Certainly, it helps if you already have an overall well-being program and strategy in place. If you don't, start from where you are. Here are some things you can begin doing right now:
Send regular communications from leadership. For example, send emails from the CEO to let everyone know what's happening within the organization and get everyone on the same page. Even better, send a short and engaging video message.
Encourage your employees to connect with each other in new ways. Maybe you can use social media and ask employees to post to a specific hashtag.
Use the tools. If you have Slack, Google Hangouts, Zoom, Microsoft Teams or other software, encourage people to use them to stay connected with their colleagues, loved ones and even their community.
Send updated information about benefits. Carriers have been making changes to benefits (such as covering the cost of COVID-19 testing and eliminating copays for telemedicine) but don't always communicate these changes in a timely manner. Go ahead and let your employees know how these changes affect them.
Remind employees about the Employee Assistance Program (EAP). Most employers offer these programs to employees and their immediate family members at no charge. Be sure to remind them that the EAP offers more than just counseling — they also offer a lot of other resources online or by phone.
Is it a good time to communicate about well-being? Absolutely. Check out our website for more information about total well-being and ideas that can help you communicate now.